The Crew 2 review this game is the 2nd series game The Crew developed by Ivory Tower. This game was published by Ubisoft and released for PS4, Xbox One, and PC on May 15, 2018. It still was a game to be played for best PS4 racing games 2021.
This game has a varied content compared to other racing games. You can find almost all sub-genres of racing games are available in The Crew 2. Let's take a time to read this article to know about the content.
The Crew 2 Review: Opening story
As a successor, The Crew 2 also has storytelling before entering the game, just like part 1. The story is not interesting, it just focused on the main character who was previously "nobody" and then became "somebody." It was nothing compare to "Need for Speed."
Gameplay: Racing on Water, Land, and Air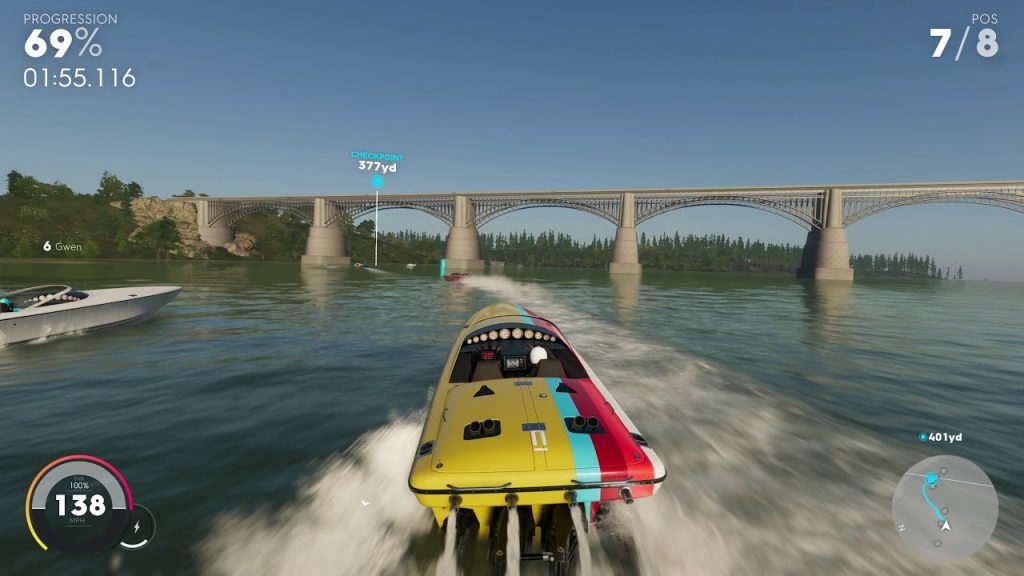 The Crew 2 as PS4 racing games 2021 taking a different direction from Crew 1. It brings gamers into a racing game with free experience through open-world exploration. The racetracks are from various fields such as water, land, and air which you can take part in.
Players truly presented with various racing variants. This mission is not only asking you to become mastering in speed racing on land, water, and air. This also requires you to be capable by using all the elements.
Doing racing on the ground is not just a road racing car pitted at high speed, but you will meet drift, drag, monster truck, formula cars, supercars, motorbikes and off road. At sea, you will meet speedboats with different characters and so do in the air with different planes.
The Crew 2 review that each vehicle will force you to do different challenges, such a speed and styles which have a different gameplay approach.
Not just a specific type of track, at The Crew 2, there are also special racing sessions where your vehicle could turn into a plane or ship when approaching a certain point.
You may see similarity between The Crew 2 as PS4 racing games 2021 and Forza Horizon regarding the concept. Both are giving the players the opportunity to determine their career path as free as they can. 
Also read: Project Cars 2 Review
Even though this game also included air and water activities, actually the various activities focus on the national-level Motorsport Festival which separates in many regions. Your main goal is to gain high popularity and become a new star in American Motorsport Competition.
In order to achieve this goal while playing The Crew 2 as PS4 racing games 2021, you should have joined several crews, which are members of one type of Motorsport.
The Crew 2 that as a form of recruitment, you should complete a race. If you are success, you will get a free vehicle and access to participate in various new competitions that spread all over America.
Even the concepts are complex and include various kinds of Motorsport racing, The Crew 2 as PS4 racing games 2021 make it easy for player with standard gameplay that doesn't focus on simulation elements.
It is so easy to run the race, all you have to do is use a standard controller to your vehicle. The problem is, sometimes your vehicle could become unstable when you are doing maneuvers in several turns or even on a straight track.
Although this seems to be less meaningful, your opposite in The Crew 2 as PS4 racing games 2021 are tough and aggressive. One mistake you made will make you fall behind just a second or even get place at last position in no time.
Control of the vehicle feels smooth and responsive for speedboat, cars, motorsport, until plane. Unfortunately, this responsive control is not supported with good tracking navigation. Many players often lost the racetrack and has to return manually. This is quite annoying.
To Customize a Vehicle
The Crew 2 as PS4 racing games 2021 was presented with a variety of options for upgrading engine performance and vehicle acceleration. You can easily replace various parts which are suitable such as tires, brake, gearbox and other important components.
The Crew 2 that you can buy these components manually through the shop. Meanwhile, at the end of the race you will be able to get a spare part by loot. The higher the competition level you join, more exclusive and valuable are the components you get. 
Also read: Gran Turismo Sport Review
Visual Part
Ubisoft presented this game with the widest open world map compares to another racing game. The size of the map is covering the entire America, and it surely was not a joke.
The Crew 2 as PS4 racing games 2021 offered a new sensation of visual parts to enjoy. Many players are complaining regarding the world design. For them, the visual seems to be unattractive and bland.
Meanwhile another player really enjoyed the atmosphere from various regions.
Some player had participated in a racing event that was located in several provinces and to reach the location of the event, it took at least more than one hour.
The Crew 2 review says if you don't want to take hours of riding, there is fast travel access you can use at any time to reach the area in an instant.
Even though the world is so wide, The Crew 2 as PS4 racing games 2021 not forget to give a small detail so each area feels alive. Of course, you may see some empty and boring plains, but it is very reasonable when we are considering the size of the map.
While you are on the highway, you can access the standard map feature to see the surrounding area. This standard map was equipped with various options that are unique to record your travel activities.
Most players agree if many visual effects add to this game starting from lighting into weather changing deserve to get two thumbs up. The scenery while you were travelling is indeed such a pleasure view.
Unfortunately, it is also a shame that a physical and destructive level was very minimum. There is no damage to the car, no grip sensation, or something like that, when the vehicle run across the vineyard with high speed.
There result was a race of speed is too smooth and slippery, just like driving in the world without any physics effect at all. It doesn't reflect the real world, and it turn becomes not having fun while playing this game.
If you want to play the game with an amazing view and various racing variants, you may consider to purchase The Crew 2 as PS4 racing games 2021.  The crew 2 review that you can order it online at PlayStation Store, Microsoft Store, and Xbox One store for price USD 49.99. 
Game Details
Developer: Ivory Tower
Publisher: Ubisoft
Platform: PS4, Windows, Xbox One
Release Date: May, 15, 2018
Price: USD59.99 at Amazon
The Review
The Crew 2
The Crew 2 Review bringing a new concept of racing game which include cars, plane, motorbike, and speedboat. It offers a huge world map could be explored, although the view is look plain. There are four kind of racing can be chosen like Street Racing, Freestyle, Off Road, and Pro Racing.
PROS
Huge world map
Tons of vehicle and track can be picked
Have different experience in racing games because including cars, motorsport, plane, and even a speedboat
CONS
Very grindy
No offline mode
Visual are underrate, except for the vehicles
Free drive mode is underutilization
Review Breakdown
Visual

0%

Performance

0%

Story

0%

Audio

0%

Price

0%
The Crew 2 DEALS
We collect information from many stores for best price available
Best Price
$59.99